How-To: Make Contents Links in Ebook for Smashwords
You want a working contents page in your ebook. Readers love them. Anything that improves navigation is good. Done properly, the Smashwords Meatgrinder will produce epub and PDF with working contents page linking to your chapters or parts. Software like Adobe Digital Editions and iBooks on iPad will allow the reader to jump to chapters in your book. Below are screen shots of my novel, Raven Memory in Adobe Digital Editions and iBooks. The iBooks contents work by scrolling. In addition, iBooks reveals how many pages remain in the chapter. Note: In my first revision of Raven Memory, I used flowing text between chapters, and my recent revision (Sep 3) uses chapter headers.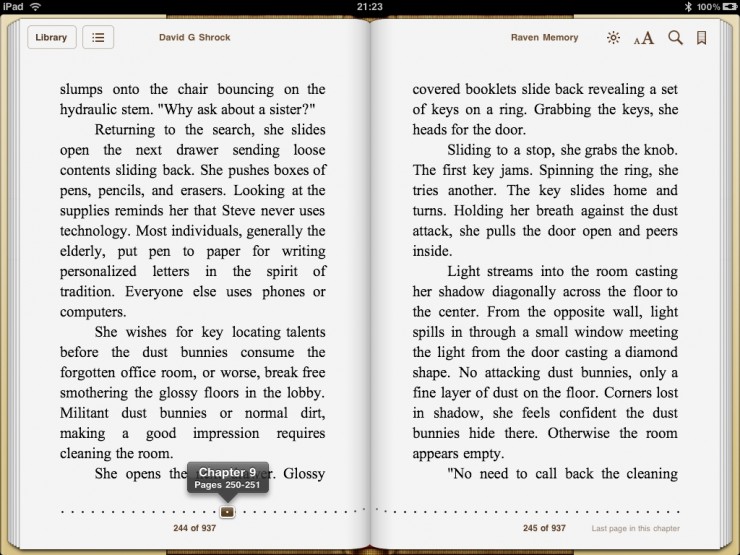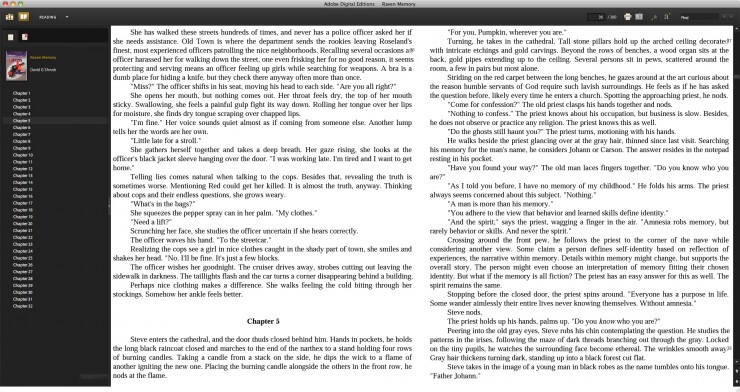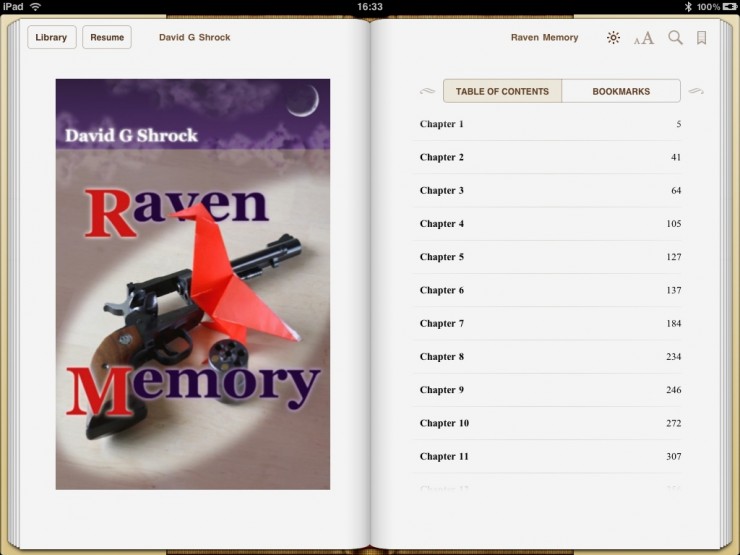 The Quick Guide to Working Contents
Follow Mark Coker's Smashwords Style Guide exactly.
It's that simple. Well, almost. The Smashwords Meatgrinder is picky about formatting, and some issues may not be clear. Pay close attention to the entire guide. It doesn't matter if you use Microsoft Word or OpenOffice.org Writer, the directions for creating working contents links are the same.
About Chapter Headers
Coker's guide mentions using header formatting for your chapter headers. This is optional, but a good idea if your book is long. Using headers tells Meatgrinder to create a new xhtml page for the epub which may render as chapter breaks in software like Adobe Digital Editions and iBooks. You may end up with a few nearly blank pages with only a sentence or two. Ugly, but preferable over the alternative. Without formatted headers the text flows, but Smashwords Meatgrinder will break longer works into segments which may cause page breaks in undesirable spots when reading epub. Format headers for chapters to avoid Meatgrinder choosing breaks for you in epub conversion. This doesn't apply to PDF or online reading.
As seen in the Adobe Digital Editions screen capture above, my first revision of Raven Memory didn't format the chapter headers allowing flowing text. Due to 3 abrupt page breaks in the epub, I revised using header formatting. Now Adobe Digital Editions produces one nearly blank page (depending on screen size,) but looks fine in iBooks. See the screen shot below. This is better than breaking between paragraphs, and epub readers may get better in the future at pushing text so there isn't a single line left on a page. (Dear epub reader software creators: Learn how to flow text correctly.)
Tips on formatting with linking contents for your ebook
Make sure the entire document has consistent formatting, paying close attention to the paragraph style name. If you use formatted chapter headers, they should also be consistent.
Use Styles and Formatting sheet.
Internal contents links work like external hyperlinks.
Don't use your word processor automation. Create your contents links by hand.
Before uploaded to Smashwords, export to PDF and test every link.
After uploading, test the PDF and the epub in Adobe Digital Editions. Click every link to make sure it goes to the correct place in your document.
My How-To: Create Contents Links Formatted for Smashwords
Save your contents page for last after you have made certain your entire document is formatted correctly. Heading styles are optional, but recommended for longer works. Edit your styles sheet for your body text and header. If you name your chapters starting with "Chapter" then Meatgrinder will make things easier. In Shadow Memories, I named each as the title of the short story. Still works as long as you make internal hyperlinks. See Step 20 in Coker's guide.
Your table of contents should list each chapter single-spaced after the license information. No page numbers. The contents entry should be the same as the matching heading.
Go to each chapter heading and highlight the text.
(Optional, but recommended) Set the format to header using the same or similar font. (Remember to use style sheets.)
Use the Insert Bookmark feature. Name the bookmark matching the header, but without spaces.
After you named all the bookmarks matched to headers, go back to the contents page. Select each entry and use your Insert Hyperlink feature, select internal hyperlink and select the matching bookmark.
In your document, test each bookmark hyperlink. If you missed one or made a mistake, correct. Then export to PDF and test the links there. If it works in a PDF, and your book is formatted properly, it will work after going through the Meatgrinder.